USGS Study Finds Large Increase in Fracking Water Use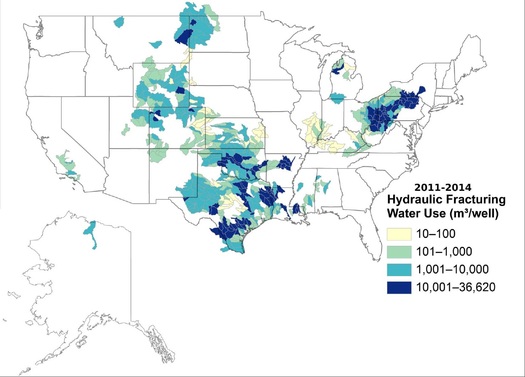 GRAPHIC: A new study from the U.S. Geological Survey finds the water footprint of hydraulic fracturing is increasing. An average horizontal gas well consumed over five million gallons of water in 2014, up from around 177,000 gallons in 2000. Graphic courtesy U.S. Geological Survey.
By Eric Galatas, Public News Service - CO - Producer, Contact
July 7, 2015
DENVER – A new study from the U.S. Geological Survey (USGS) shows water used for hydraulic fracturing, better known as "fracking," is on the rise across the nation.

The study found water use in horizontal drilling at gas wells was 28 times higher in 2014 than in 2000, and each gas well now taps over five million gallons of water, while oil wells require some four million gallons.

Sam Schabacker, western region director with Food and Water Watch, says this is bad news for states prone to drought.

"We've seen in Colorado that we don't have enough water already," he says. "Unfortunately, the oil and gas industry continues to consume and pollute our precious natural resource."

Industry groups claim the EPA has never found an instance of hydraulic fracturing contaminating groundwater in Colorado, but they admit large-scale fracking operations may have a cumulative impact to watersheds and groundwater over time. In some areas, well operators are working to capture and clean post-fracking water for re-use.

Since fracking operations are not the same in every location, the report found water usage varies from one location to another. The report did indicate more water was in play in areas with large shale formations, like the Piceance Basin in northwest Colorado.

Schabacker says some toxic chemicals added to the water in the hydraulic fracturing process are at risk of migrating to Colorado aquifers and waterways.

"That is water that could potentially contaminate some of our pristine drinking water supplies," he says. "As well as some of our main recreational areas for fishing or kayaking."

The report's authors say they're hopeful new information about how much water is being used at different sites across the U.S. will give land and resource managers more information to protect against potential environmental impacts.