A Cautionary Report Heading into Thanksgiving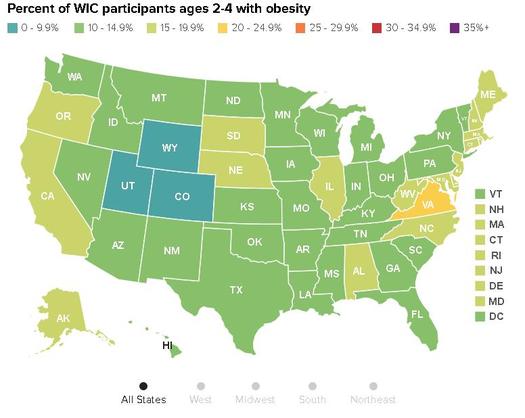 Virginia has one of the highest obesity rates for lower-income toddlers (ages 2 to 4) in the country. (The Trust for America's Health and Robert Wood Johnson Foundation)
November 21, 2016
RICHMOND, Va. – As Virginians get ready to celebrate one of the biggest eating days of the year, new research is sounding a cautionary dinner bell.

The latest State of Obesity report showed two-thirds of Virginia adults are overweight or obese, as well as one in five children between the ages of two and four who live in low-income households.

The latter figure is one of the highest rates in any state, and one that Dr. Shon Chakrabarti, cardiologist and assistant professor of medicine at Eastern Virginia Medical School, calls especially alarming. An obese child is headed for a lifetime of health issues, he said. And as a cardiologist, he's seeing younger and younger patients with heart problems.

"It used to be that someone in their 30s presenting with a heart attack had some sort of rare condition," Chakrabarti said. "But these are folks who develop heart disease the same way that we used to see in 40, 50, 60-year-olds. This is the future we're looking at."

Chakrabarti said home cooking from scratch - the way so many families do on Thanksgiving - is an excellent habit to maintain. But the downside to turkey day, he said, is that most folks eat much more than they should, and then become sedentary.

Most of the time, people don't pay enough attention to their food, Chakrabarti said, which can be trouble when making a burger stop or visiting the potato chip aisle at the grocery store. At least on Thanksgiving, he said, much of the traditional dinner consists of produce and other wholesome ingredients - and more thought goes into it.

"The joys that go along with cooking with your family and going from obtaining fresh foods to putting a beautiful meal on your plate - that's behavior that I'd love to reinforce year-round," he said.

Chakrabarti said children, especially from low-income families, often don't get to develop good nutrition habits. They don't consider how their health might be impacted in the future, and tend to accept what they get from the adults around them. He said he's convinced that part of the solution is a grassroots effort aimed at policies already known to improve children's diets and health.

"Public funding to address this issue of food deserts, and getting healthy grocers into communities," he suggested. "Setting minimum standards for things like vending machines in schools, and physical activity requirements. Public policy issues can make a big difference."