Outdoor Enthusiasts Rally in Support of Public Lands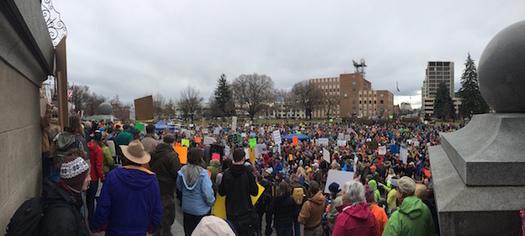 Thousands of Idahoans rallied in Boise on Saturday to support public lands. (Nathan Field)
March 3, 2017
BOISE, Idaho - Outdoor enthusiasts rallied on Saturday at the Idaho state Capitol in support of public lands.

A broad coalition of hunters, hikers, conservationists, bikers and more came to the steps of the Capitol to listen to speakers on the importance of public lands and keeping them out of private hands.

Jonathan Oppenheimer, government relations director for the Idaho Conservation League, said many Idahoans are concerned that the transfer of these lands to state management ultimately could see them sold off.

"Our public lands really represent our common heritage," he said, "From the Selkirks in the north of Idaho all the way down to the Owyhees in Southern Idaho, these are lands that really matter to Idahoans."

More than 60 percent of Idaho's land is public - managed by the Bureau of Land Management, U.S. Forest Service and National Park Service. More than 2,500 people were at the rally.

Martin Hackworth, executive director of Sharetrails, a group representing about 7,000 motorized-vehicle users who ride on public lands, said he may not always agree with the way federal lands are managed, but in the case of public lands, all Americans are owners and get to have a say in their management.

"Public land like we enjoy in the United States is unique in the world," he said. "As a citizen of this country, that's part of your birthright, and it's a wonderful part of being a citizen of this country - and I, for one, am not willing to give that up without a lot of thought and a lot of conversation."

Recreation on public lands also has a big economic impact. According to the Outdoor Industry Association, outdoor recreation in Idaho generates $6.3 billion in consumer spending and 77,000 jobs. Hunting-clothing manufacturer First Lite and its customers have felt the effects of public lands directly, said Ryan Callaghan, the company's director of conservation.

"When we run the numbers," he said, "we find that 80 percent of our customer base hunts exclusively on public land."

The rally coincided with Idaho Day.