SD Kids Learn How Dirt Helps Make a Cheeseburger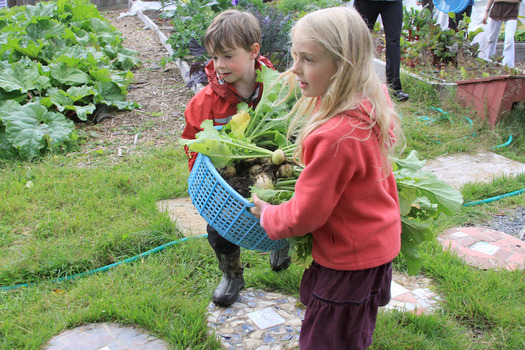 Agriculture may be the top industry in South Dakota, but kids who aren't from farm families may not be aware of where their food comes from. (sitkalocalfoodsnetwork.org)
March 30, 2018
SIOUX FALLS, S.D. – A survey two years ago found that one in five grade-school children didn't know where their food came from – and today, a South Dakota education program is trying to change that.

Ground Works Midwest is a nonprofit that has introduced "Agriculture in the Classroom," lessons to enhance education in elementary schools in under-served areas of South Dakota. Associate Director Cindy Heidelberger-Larson says the program aims to teach fourth graders valuable lessons about how things grow.

"When we're hearing students don't know where their food is coming from, they're not making that up – students don't know," she says. "But additionally, the teachers don't know either. We're becoming further and further removed from that knowledge base."

She says at this point, "Agriculture in the Classroom" is a pilot program serving 45 fourth-grade classrooms across 11 school districts.

Heidelberger-Larson says the theme of one lesson is, "Dirt Made my Bacon Cheeseburger." It teaches kids about the kinds of crops that are grown to feed cows and hogs – that eventually, become the beef and bacon in their burger.

"No, we're not planting bacon cheeseburgers! We were, in effect, planting the grains that our farmers and producers would turn around and feed their livestock," she says. "And we were able to link every part of that bacon-cheeseburger back to the soil, and they knew where it was coming from."

The Medibank survey showed that some kids didn't know butter is made from milk, or that apples grow on trees and tomatoes on vines.

Tim Olsen, executive director with Ground Works Midwest, says kids are using the same technology now that they might use later, when working in agriculture or as policymakers.

"They're using their Play Stations, they're using their video games," says Olsen. "I mean they're doing some of this already. But guess what? There could be careers that pay them really good salaries and benefits. So, part of what we see also is that this is a way to keep kids home in South Dakota, and finding that you don't have to grow up on a farm to do this."

Agriculture might be the state's number one industry, but Olsen says even some South Dakota parents don't know that soybeans grow in pods.