Indiana Doctor: Water Crucial for Kids During Sweltering Summer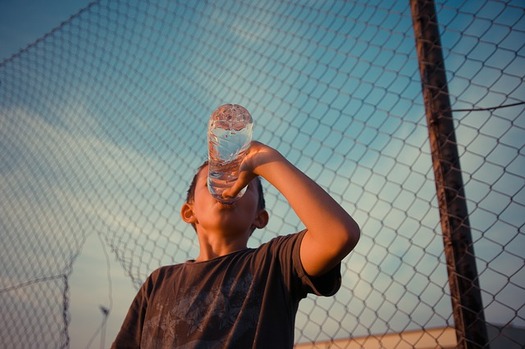 Four gulps of water for every 15 minutes of outdoor activity can help children avoid dehydration. (Pixabay)
July 30, 2018
INDIANAPOLIS – With summer temperatures soaring, health officials are reminding Indiana parents about the importance of hydration – for themselves and their children.

Dr. Julie Daftari, chief medical officer of UnitedHealthcare in Indiana, explains water is critical for physical function, as it makes up 70 percent of a human body.

She says in hot weather children are at greater risk for dehydration because their body's cooling system is not fully developed.

"They have a larger proportion of skin available to lose sweat when it's exposed to heat and strenuous activity," Daftari explains. "And children don't always recognize that they're thirsty, and if they're not encouraged and reminded to drink, they might forget."

She says among children, irritability, drowsiness and dizziness are common signs of dehydration, as well as dry, cool skin, a dry mouth and few or no tears when crying.

Four ounces of water, or about four gulps, are needed for about every 15 minutes of outdoor activity.

About every 30 minutes, children playing outdoors should have a snack with salt and potassium to help protect against electrolyte loss and promote hydration.

And for young people participating in sports or exercising in the heat, Daftari recommends drinking one or two glasses of water beforehand.

"And then, when you're exercising make sure that you're taking frequent breaks to drink," she advises. "If you're out in the heat for a prolonged period of time, then maybe one sport drink to supplement the water would be appropriate. Otherwise, just stick to water."

Daftari explains half of the fluids children consume should be water, and too much juice, and carbonated beverages, should be avoided.

She adds fruit smoothies, popsicles and yogurt are not only a nice treat, but also an easy way to increase hydration.