Community Groups Provide Thanksgiving Meals to Families in Need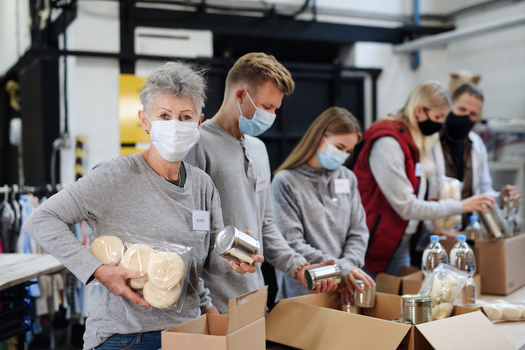 A report from the University of Illinois College of Agricultural, Consumer and Environmental Sciences found 18 million more Americans are experiencing insecurity now than in 2018. (Halfpoint/Adobe Stock)
November 23, 2020
RENO, Nev. -- As the holidays approach, COVID-19 case numbers are on the rise, and more Nevadans are experiencing food insecurity.

The Silver State's job market is heavily reliant on the service industry and tourism, both disproportionately impacted by the pandemic.

Since the pandemic started, Nevada's food insecurity rate has jumped from 20th highest in the nation to eighth, according to a report from the University of Illinois.

Food banks and food pantries are working to provide meals to Nevadans, especially during this holiday season.

Jocelyn Lantrip, director of marketing and communications for the Northern Nevada Food Bank, said they distributed 1,600 Thanksgiving meal kits to residents of Washoe County this past weekend.

"The holiday season is tough for families," Lantrip observed. "Expenses go up. It's starting to get cold. Maybe you're already struggling to make ends meet, so you want to have a meal with your family, and we want people to be able to do that."

According to Lantrip, the COVID-19 crisis has significantly increased demand for everyday meals, and more people are asking for help for the first time.

More than 300,000 Nevada children qualify for free or reduced lunch. With so much uncertainty around school closures, Lantrip said the Food Bank has been working to make sure that families used to their kids participating in school nutrition programs have healthy meals.

But even before the pandemic, she said Nevadans were struggling with food insecurity.

"Then that just got worse, when so many people are suddenly out of work," Lantrip explained. "So it really is the perfect storm for low-income people in Nevada."

The Northern Nevada Food Bank is just one of the community groups across the state helping families in need this Thanksgiving. Advocates say Congress should pass legislation providing federal assistance for food banks and pantries, but negotiations on a pandemic-relief package have been stalled for months.