Two Public Hearings in NM This Week on Nuclear Fuel Repository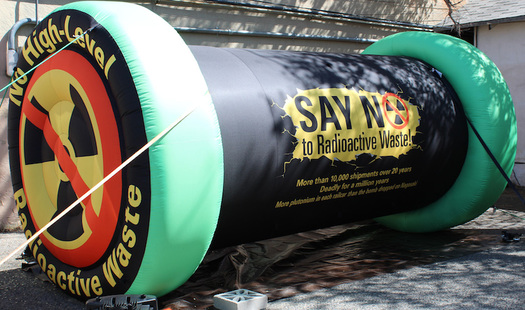 A mock radioactive waste canister represents the 100,000 metric tons of spent nuclear fuel rods a company wants New Mexico to store until a permanent facility is built. (Don Hancock)
May 21, 2018
ALBUQUERQUE, N.M. — New Mexico residents will have two chances this week to tell the Nuclear Regulatory Commission what they think of a proposed underground nuclear storage facility in southeast New Mexico.

Holtec International is seeking permission for a temporary repository between Carlsbad and Hobbs, even though a permanent repository is not in the works. Don Hancock, director of the Southwest Research and Information Center, told state legislators at a hearing on the issue last Friday that spent nuclear fuel is not safe, and that's why the East Coast wants to get rid of it by sending it to New Mexico.

"There are many problems with it," Hancock said. "And our cities should not approve Holtec's request to bring all the nation's most dangerous commercial nuclear waste to New Mexico."

Holtec officials argue the facility would be an economic boost for the region, and predicted $2.4 billion in capital investment and the addition of several hundred permanent jobs. The NRC will hold public hearings in Gallup Monday night at the Downtown Conference Center at 6 p.m. and in Albuquerque Tuesday at Crowne Plaza, also at 6 p.m.

Holetc International is seeking a 40 year lease to operate the storage facility. But Hancock said there's no guarantee New Mexico won't become the home for spent nuclear fuel for several decades or possibly forever.

"The decision makers will be members of Congress," he said. "And so we of course also encourage people to talk to their members of Congress."

The public can comment on the issue through July 30 at regulations.gov. Following the meeting, the NRC will draft an environmental statement prior to additional meetings next summer.