Nurse to Candidates: Opioid Crisis Should be "Front and Center" in Ohio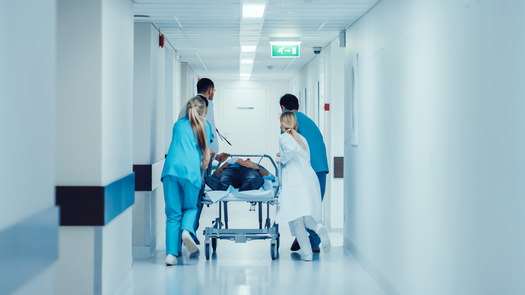 Overdose deaths in Ohio are on track to fall below the record pace of last year, but the opioid crisis is far from over.

The group Harm Reduction Ohio estimated that overdose deaths for 2022 will drop below 5,000 for the first time since 2019. However, after falling at the beginning of the year, rates appear to have increased since May.

As a registered nurse at The Ohio State University's Wexner Medical Center, Rick Lucas has a firsthand view of the opioid epidemic. Lucas, an Ohio Nurses Association union leader, said he carries naloxone at all times to respond when patients - and sometimes, hospital visitors - overdose.

"The stress that everybody is under through the pandemic has only really made things tougher," he said. "Children losing parents, parents losing children, families split apart because of addiction. This is very much something that needs to continue to be front and center, and addressed."

The epidemic is a top issue in the U.S. Senate race between Democrat Tim Ryan and Republican J-D Vance, who wrote a memoir detailing family addiction. Vance has faced criticism of his nonprofit, which he said fights opiate abuse. Media reports have questioned the organization's spending on a political advisor and opinion polling. While financial disclosures indicate the nonprofit is now shuttered, Vance's campaign says it's on a temporary hold due to the Senate race.

Lucas explained that local health-care providers and organizations on the ground have worked tirelessly to help Ohioans struggling with addiction, as state and national resources have fluctuated.

"These folks need not only in-hospital care, but out-of-hospital care, and a lot of the funding comes from the federal government," he said. "So, it is really important that we have legislators in Washington that are gonna take this serious and push policies that have an impact on this crisis."

Lucas said states such as Ohio need more help tackling the opioid crisis, including its increased burden on the health-care system. And he argued that more investments are needed to help people struggling with addiction in rural communities.

"It's a real hardship for folks to travel 30 or 60 miles for ongoing treatment; they don't stick with it," he said. "So we definitely need a more proactive approach in addressing the mental health-care needs of individuals, so they're not turning to self-medicating with opioids or other illicit substances."

According to Harm Reducation Ohio, the worst overdose death rates in 2022 so far skew heavily toward the Appalachian counties in southeast Ohio.


get more stories like this via email

Social Issues
Voting rights advocates in Massachusetts are applauding Governor Maura Healey's budgetary backing of new policies stemming from last year's passage of…
Environment
Climate-change groups are calling attention to the environmental destruction linked to the wood pellet industry - even as California is considering a …
Social Issues
Many Nebraskans know how crucial a family caregiver is to one of their family members. Now AARP research has put a dollar value on that unpaid care - …
Social Issues
South Dakota is home to one of the nation's largest American Indian reservations, and the area is part of a movement among tribal nations to take …
Health and Wellness
As the cost of food, medicine and rent continues to climb, new data shows the benefits miners receive are now 40% less than what they received in 1969…
Environment
With the cost of farmland up by more than 8% percent in North Carolina, the state's Black farmers are struggling to purchase additional acreage or …
Environment
By Zachary Shepherd and Kelsey Paulus for Kent State News Lab.Broadcast version by Nadia Ramlagan reporting for the Kent State-Ohio News Connection Co…
Social Issues
Republican-sponsored bills and amendments in the Legislature would eliminate the Tennessee Commission on Children and Youth. More than 1.5-million …