World Watching Maryland's Water Wheel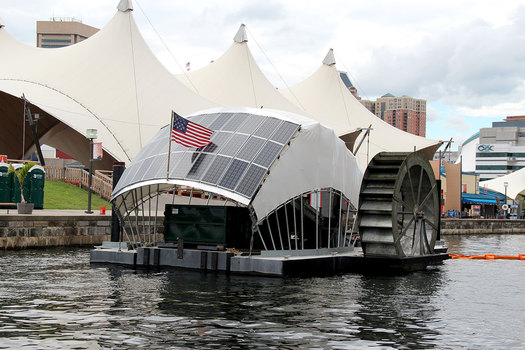 Mr. Trash Wheel has collected 380 tons of garbage from the Baltimore Harbor since 2014. (Waterfront Partnership)
February 15, 2016
BALTIMORE – An innovative way to clean the Baltimore Harbor is getting a lot of attention.

It's called Mr. Trash Wheel, and it is powered by waves and sunlight. It was invented by Clearwater Mills, and now the company is getting interest and even some work orders from outside the U.S.

Adam Lindquist, Healthy Harbor Initiative manager at the Waterfront Partnership of Baltimore, says Rio de Janeiro wants to buy a machine to clean up ahead of the Summer Olympics, and cities in Bali have inquired about buying one as well.

Lindquist says a lot of the attention for Mr. Trash Wheel is the result of social media.

"You can actually go and talk to the water wheel," he points out. "It actually presents itself as Mr. Trash Wheel, and it will actually tell you stories and answer your questions.

"It's really been a great way to connect people to the problem of trash and litter, and its impact on local waterways."

There's now a crowd-funding campaign under way so Baltimore can buy a second Mr. Trash Wheel.

Lindquist says the city is about halfway to the fund-raising goal of $550,000.

The Waterfront Partnership has a live feed so its fans can see what Mr. Trash Wheel is up to, at all times.

Lindquist says you can watch it pick up trash – and he says there's a lot of it.

"Just over 7 million cigarette butts, 280,000 pieces of polystyrene, and over 200,000 chip bags," he relates.

The trash wheel is just part of a 10 year plan to make the Baltimore Harbor safe for swimming and fishing.

Lindquist isn't positive that will happen by the 2020 deadline, but since Baltimore began the mission, he says the water quality has improved every year.