Wisconsin Democrats: Bill Would Make Spring Flooding Worse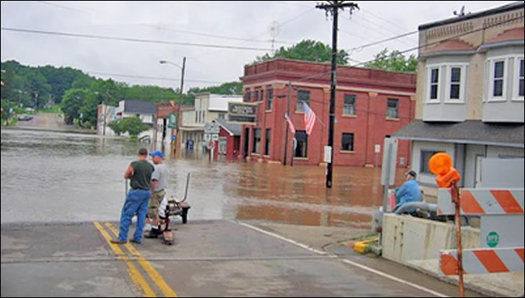 Spring flooding in Wisconsin can be devastating, as in Rock Springs in 2016, when the Baraboo River overflowed. Democrats say a bill under consideration would make flooding worse. (NOAA)
February 28, 2018
MADISON, Wis. — As February comes to a close, 12 Wisconsin counties are now or have recently been under flood warnings, an unusually high number for this time of year.

Wisconsin Democrats are opposed to a bill working its way through the state Legislature. They say AB 547 would make spring flooding even worse in the Badger State because it would make it easier for developers to pave over wetlands, which provide natural protection against flooding.

Democrat Janet Bewley, a senator from Ashland, recalls the catastrophic flooding in her part of the state.

"It's been 16 months since deadly floods caused enormous damage across northwestern Wisconsin," she says. "We spent months detouring around washed-out roads as crews did heroic work helping our communities recover and start rebuilding. It will be years before we're back to where we started."

Bewley says AB 547 is "almost guaranteed to make things worse." She says the whole world saw what happened in Houston with the catastrophic flooding following Hurricane Harvey.

Republican supporters of the bill say the fear talk is overblown and that the bill is only an update to a law they say needlessly thwarts economic development.

Bewley says wetlands not only provide critical protection for our water by filtering out pollution, they also are our best natural defense against flooding. She says we need to ensure that any changes made to wetland protection don't result in increased flooding in Wisconsin.

"It's not just a question of having to spend more time with our shop-vacs in our basements, it's a question of where are we going to find the resources to rebuild whole communities that have been devastated by flooding," she explains.

She says she understands the need to update laws but cautions that we shouldn't go too far and create more problems.