MI Groups Question Automakers' Fuel-Efficiency Meeting with Trump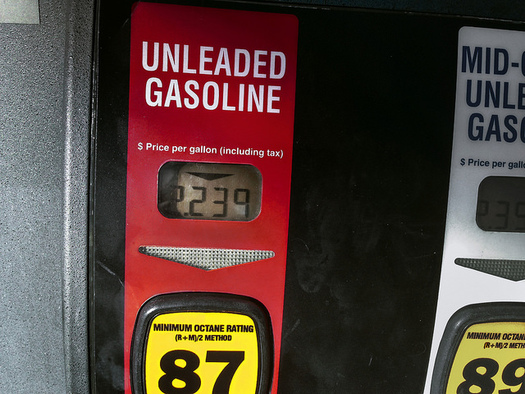 Some groups say clean car standards passed in 2012 have saved Michiganders more than $1.1 billion at the gas pump. (Robert Couse-Baker/Flickr)
May 11, 2018
LANSING, Mich. – Executives of the nation's automakers are slated to meet with President Donald Trump Friday to discuss a rollback of fuel-economy requirements.

The White House wants to weaken Obama-era standards that would essentially double the average fuel economy of new cars, SUVs and light trucks by 2025. The EPA contends the standards were set too high and are unrealistic – which Joyce Stein, board member with the Alliance of Nurses for a Healthy Environment in Michigan, says is confusing.

"The automakers were in support of these standards when they were first put through," says Stein. "And then, even in the beginning of 2017, the EPA had concluded that they were working. So, it's a little unclear why the EPA wants to make an about-turn and roll them back now."

This week, 18 states filed a lawsuit challenging the rollback proposal, calling it a rollback of progress in the name of deregulation. The auto industry has said it wants to continue to invest in fuel efficiency, but needs the standards to be more flexible.

Supporters of lowering the emission standards argue that competition is a better driver of fuel economy innovation than government regulations. But Sean McBrearty, Michigan campaign organizer with the group Clean Water Action, counters the standards are already making U.S. automakers more competitive.

He notes during times of rising gas prices, higher fuel efficiency helps drivers save money.

"This has already saved Michiganders more than $1.1 billion at the pump, and the standards have also helped to encourage innovation by our Michigan automakers that are facing staunch competition for fuel-efficient vehicles on the global stage," says McBrearty.

Stein adds that by reducing tailpipe pollution, the standards are protecting the environment, fighting climate change and improving health.

"Supporting cleaner emissions would be one step to having cleaner air for the environment, for people to work outside, play outside, live outside," says Stein. "Air quality is definitely something that we can improve on by having cleaner air standards."

She notes the rollback comes at a particularly bad time, as more than 4.7 million Michiganders live in the 10 communities recently declared by the EPA to have unacceptable smog levels.