Fending-off Food Waste During Coronavirus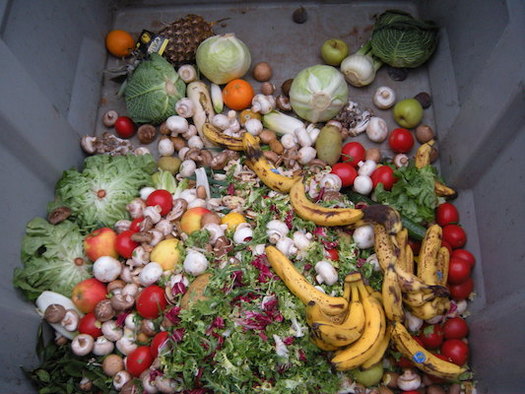 Even without a pandemic that has caused panic buying at the grocery store, it's estimated that about 40% of food produced for human consumption is never eaten and ends up in landfills where it breaks down and emits methane. (wikipedia.org)
April 7, 2020
LAS VEGAS -- If anxiety over the coronavirus pandemic has caused you to buy too much food during the current health crisis, experts say there are steps you can take to make it go farther.

Supermarket sales have jumped since restaurants in many states closed in an effort to fight the coronavirus pandemic. "American Wasteland" author Jonathan Bloom said fruit, vegetables and bread should not be going to waste.

"Basically, you can freeze anything from milk to meat to fruit," Bloom said. "Bananas, if you're someone who enjoys smoothies or you want to have some of those with breakfast, just make sure that you peel them before you freeze them."

Many communities offer municipal collection of food waste or composting services, but Bloom said that should be the last resort, not the first. Even in normal times, the United States wastes 40% of its food annually, amounting to about 63 million tons.

Bloom said at home, it's estimated American households don't use about 25% of the food they buy.

"So that's a key figure to keep in mind when you're out at the store," he said. "We don't want to overbuy; especially, we don't want to over-purchase those perishable goods that won't be shelf-stable."

Bloom said many people, especially those with a chest freezer, keep adding to their stockpile. He said this could be the time to make a plan to use what you've already purchased and make the freezer your friend.

"Let's eat down our freezer from time to time, and not just keep piling it full of goods that we'll unearth one day when they're closer to an iceberg than to something that's actually edible," he said.

Bloom added consumers also should know that "best before" labels are a guide and - with the exception of baby foods - not a rule. Most expiration dates on canned foods range from 1-4 years, but kept in a cool, dark place, canned goods often have a shelf life of up to six years.