Portland Health-Care Workers Celebrate "Groundbreaking" New Contract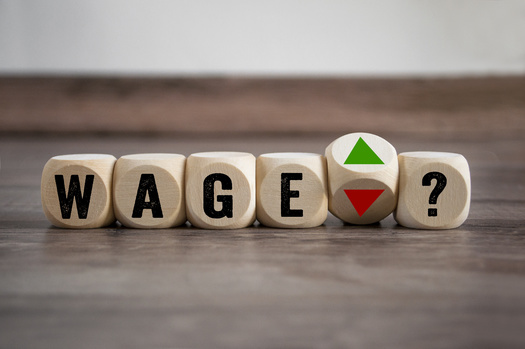 CORRECTION: The eight-hour workday clause in the contract applies only to the housekeeping staff. (8:57 a.m. PST, July 23, 2021)

PORTLAND, Ore. -- Health care workers at four Portland hospitals are celebrating a hard-won new five-year union contract with Legacy Healthcare.

The new contract affects about 1,100 housekeepers, dietary workers, certified nursing assistants and patient admission representatives.

Sunita Patel has been a housekeeper at Legacy Emanuel for the past 18 years and helped negotiate the contract as part of the union negotiating team for Service Employees International Union (SEIU) Local 49.

The contract will bring her back to an eight-hour day, after after being reduced to 7.5 hours at the beginning of the pandemic. She says housekeepers now will have more time to do a thorough job of infection control, where lives are at stake.

"Whether it's a COVID room or not," said Patel, "we have to make sure that it's disinfected with proper chemicals. If you don't, then the next patient is going to be picking that up."

With the new contract, workers now will pay less for medical benefits, get access continuing education through the SEIU & Joint Employer Education Fund, and will be able to take advantage of an expanded list of religious holidays.

Patel noted that a majority of the workers are Black, Latino or Asian, and have been struggling to make ends meet. She said all hospital workers deserve a fair contract - especially after 18 months of working on the front lines of the pandemic.

"Every employee that works in that hospital," said Patel. "When we leave our house, we are in that fear. What if we pick it up. What if we bring it back to our families."

The contract benefits members of SEIU 49 who work at Legacy Emanuel, Good Samaritan Medical Center, Unity Center for Behavioral Health and Randall Children's Hospital.




Disclosure: SEIU Local 49 contributes to our fund for reporting on Livable Wages/Working Families, Social Justice. If you would like to help support news in the public interest,
click here.
get more stories like this via email

Environment
In her 2022 State of the State address, New York Gov. Kathy Hochul set new goals for electrifying the school bus fleets in the state. Clean-energy …
Social Issues
Finding and affording child care is no cakewalk for Oregon families right now. A new report details the pressures and some potential policy fixes…
Social Issues
Acknowledging the pandemic's toll on Kentucky students, teachers and families, Gov. Andy Beshear announced last night a state budget which would make …
Health and Wellness
This month, Minnesota has raised state reimbursement rates for dentists who accept patients enrolled in the state's Medicaid program. Groups working …
Social Issues
Mobile carriers are starting to decommission their 3G cellular networks this year, some as soon as next month. Pennsylvania officials are reminding …
Health and Wellness
A new report suggests discrimination in medical settings affects the quality of care for many Ohioans. In a survey of more than 800 people, …
Environment
One hundred years ago today, the Izaak Walton League of America was founded in Chicago, with a mission of local stewardship of wild places, citizen …
Environment
An alliance of environmental groups and lawmakers has released an ambitious, wide-ranging set of goals for the 2022 Arizona Legislature. The …