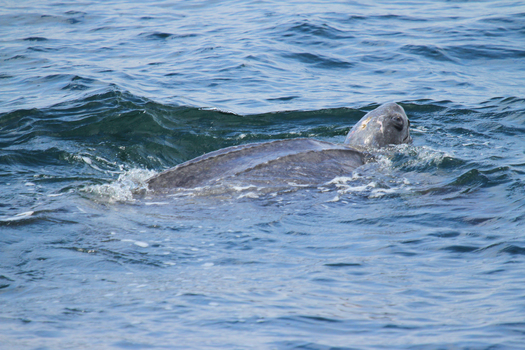 SAN DIEGUITO LAGOO, Calif. - Coastal protection groups are pressing California to prioritize so-called "blue carbon" ecosystems in the fight against climate change.

Dozens of groups have sent a letter to the head of the California Natural Resources Agency - asking for action to protect existing wetlands and near-shore areas, and restore those that have been degraded.

Gilly Lyons, an officer with the Conserving Marine Life in the United States program of The Pew Charitable Trusts, is among those who signed the letter.

"The request from the signers is to protect biodiversity, to store and sequester carbon, and to mitigate the effects of climate change that we're already living with," said Lyons, "things like ocean acidification, storm surges, coastal flooding, etc."

The letter comes during the public comment period for a draft of the CNRA's new "Natural and Working Lands Climate Smart Strategy," to be finalized early next year.

Last year, Gov. Gavin Newsom issued an executive order requiring state agencies to act to accelerate the natural removal of carbon and build climate resilience, especially in lower-income communities.

Angela Kemsley is conservation and communication manager at the group WILDCOAST, which is currently restoring two lagoons in San Diego County. She said natural features like eelgrass beds are important tools in climate mitigation.

"They're actually much more efficient at storing this carbon than land-based plants," said Kemsley. "And so, they're able to take a bunch of carbon out of the atmosphere, store it in the soil - and that helps to fight climate change."

According to the U.S. Fish and Wildlife Service, 90% of California's historic wetlands have been drained for agriculture and development over the past century.




get more stories like this via email

Health and Wellness
Most people probably never give a second thought to their visits to the dentist, but not everyone can navigate this process with ease. People with …
Social Issues
Christmas is a little more than two weeks away, and toy drives around the country are in full swing. A North Dakota organizer shares some things to …
Social Issues
A federal judge in Nevada has dealt three tribal nations a legal setback in their efforts to stop what could be the construction of the country's larg…

Environment
Hoosiers could get their holiday trees from any of about 200 tree farms in the state, according to the Indiana Christmas Tree Growers Association…
Social Issues
Reports from the Insurance Commissioner's office and the state Attorney General reveal an analysis of what they call "the true costs of health care" i…
Health and Wellness
The holiday season is filled with recipes passed down from years before, and feasting with family and friends. But think again before you have …
Environment
Connecticut lawmakers are reluctant to approve new emission standards that would require 90% cleaner emissions from internal-combustion engines and re…
Environment
While lawmakers and environmental groups strive to lower vehicle emissions and the nation's carbon footprint, many truckers see unrealistic …