AR Groups Compile Primary Voter Guide on Judicial Races
Early voting is underway in Arkansas through May 24. Central Arkansas community organizations have put together a nonpartisan voter guide for Pulaski County, focusing on judicial races.

The voter guide includes information about candidates running for Arkansas Supreme Court, Court of Appeals, Circuit Court, prosecuting attorney, and county sheriff.

Candidates responded to provided questions that aim to help illustrate how they may interpret different laws upon being elected.

Indivisible Little Rock and Central Arkansas' Lead Organizer Loriee Evans said it's critical for voters to have the opportunity to make informed decisions about judicial positions.

"If you're ever in court, it's probably the most important day of your life," said Evans. "You want to know that the person sitting behind the bench is fair and impartial. These judges, they decide family law, divorce law, environmental laws in our local communities."

The voter guide is a collaboration between Indivisible, Arkansas Community Organizations, the League of Women Voters of Pulaski County, local National Association for the Advancement of Colored People branches, the Arkansas Public Policy Panel, and others.

Arkansas is an open primary state, meaning residents are not required to be registered as Democrats or Republicans to vote.

Arkansas ranked last in the nation for voter turnout during the 2020 presidential election, according to the U.S. Election Assistance Commission.

Evans said it's important for Arkansans to vote in the primary because it decides which candidate represents each party in the November General Election.

"Would you rather have someone who's representing your party who can work across the aisle," said Evans, "who can find compromise, because that's how we actually make laws and progress forward, rather than elect a lot of folks who only represent a handful of voters?"

This election, Arkansans also are voting for party nominations for both chambers of Congress, governor, state Legislature seats, and more.

Next Tuesday, May 17 is the deadline to request a mail ballot. It must be dropped off in person by May 20.

Support for this reporting was provided by the Carnegie Corporation of New York.



get more stories like this via email

Social Issues
This July 4th marks nearly 250 years since the United States declared its independence, setting the country on a path to establishing its democracy…
Social Issues
Research is emerging about the secondary trauma school staff members face after helping students during the pandemic. As summer moves forward…
Health and Wellness
A Florida judge plans to put a hold on the state's new, 15-week abortion ban, set to take effect today. He said it is unconstitutional and will issue …
Environment
The Environmental Protection Agency now has fewer tools to fight climate change, after the U.S. Supreme Court stripped the agency of its authority to …
Social Issues
Three projects in Idaho have been selected to receive grants from the AARP Community Challenge. Among them is the Anne Frank Human Rights Memorial in …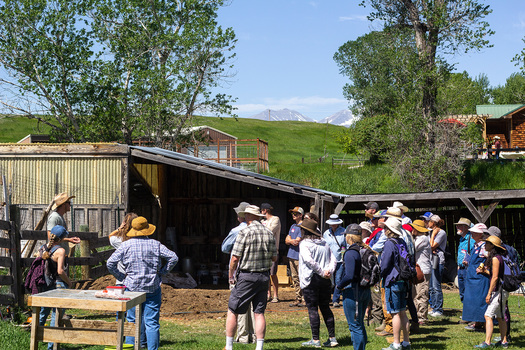 Environment
Montanans get a sense of what soil health is like on farms and ranches across the state with Northern Plains Resource Council's soil crawls. The …
Social Issues
A new tool aims to help older adults in Arkansas and beyond who receive Medicare track what happens at their doctor appointments. It also can help …
Social Issues
A campaign in Maine is gathering signatures to replace the state's investor-owned energy grid with a consumer-owned utility. Central Maine Power (…