Groups Urge Phaseout of Elk Feedgrounds to Prevent Chronic Wasting Disease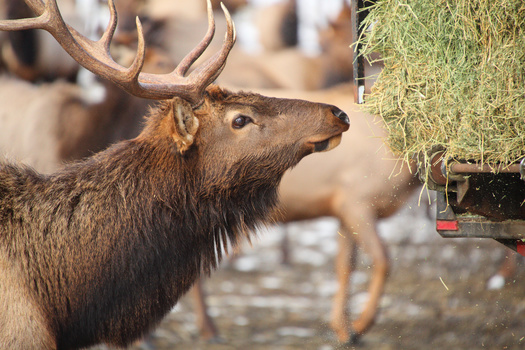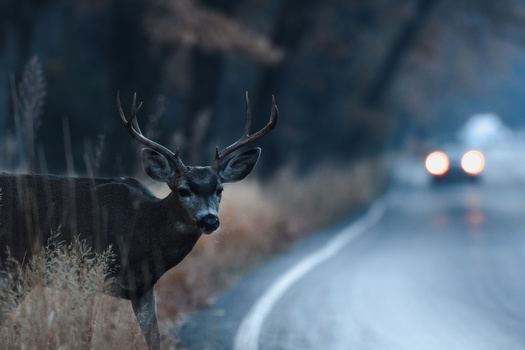 As the Wyoming Game and Fish Department enters the third phase of its elk feedground management plan, conservation groups are calling on the state to prioritize the health of the Greater Yellowstone region's wild herds and begin shutting down 22 state-run feedgrounds in northwestern Wyoming, where tens of thousands of elk are artificially fed each winter.

Kristin Combs, executive director of Wyoming Wildlife Advocates, said the move is essential for mitigating the spread of chronic wasting disease.

"And we know that chronic wasting disease is definitely going to have a significant impact on the herd health," Combs pointed out. "The feedgrounds just set up this perfect recipe for basically a petri dish for the proliferation of disease."

Comprehensive recommendations delivered this week by Combs' group and five others call for the agency to phase out all state-run feedgrounds no later than 2028. The biggest challenge to phaseouts has come from the state's livestock industry, which has long argued feeding elk keeps them away from cattle and grazing areas.

After a series of public presentations and meetings with designated stakeholders, Game and Fish is expected to issue a draft feedground management plan early next year. Combs noted Wyoming is the only western state still feeding wild animals, and there are other proven methods for keeping cattle and elk separated.

"Fencing around hay stores, or fencing to keep cattle and elk separate," Combs outlined. "Other states have certainly done that, and have relied upon landowners to take some responsibility for that as well."

Other groups urging the phaseout include the Gallatin Wildlife Association, Jackson Hole Conservation Alliance, Sierra Club, Western Watersheds Project and Yellowstone to Uintas Connection.

The recommendations call for protecting existing elk migration corridors, and for restoring corridors disrupted by decades of artificial feeding. Conservation groups also want the new plan to recognize the important role native carnivores play in reducing the spread of chronic wasting disease and brucellosis.

"They pick up on these infirmities and are able to key into which animals are the weakest," Combs explained. "That has a cleansing effect on herds, and can pull out some of those animals that are sick before they have a chance to spread the disease."


Disclosure: Wyoming Wildlife Advocates contributes to our fund for reporting on Endangered Species & Wildlife, and Public Lands/Wilderness. If you would like to help support news in the public interest,
click here.
get more stories like this via email

Social Issues
Millions of Americans with student loans are anxious to hear if the Supreme Court will uphold President Joe Biden's plan to offer up to $20,000 in stu…
Social Issues
The public has until February 13th to weigh in on new rules proposed by the Environmental Protection Agency to reduce methane pollution at oil and gas…
Health and Wellness
The Massachusetts Attorney General's Office has announced the launch of a new hotline for abortion-care providers and people seeking confidential lega…
Environment
For the second time in nearly a decade, North Dakota is considering changes to a longstanding law that blocks corporate ownership of farms. With …
Environment
Racial disparities are apparent when it comes to rooftop solar installation, researchers have reported. In Minnesota, there are efforts to close …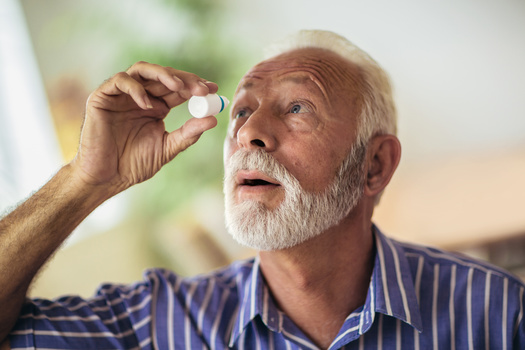 Health and Wellness
As National Glaucoma Awareness Month comes to a close, one Nevada ophthalmologist wants to remind people to get their eyes and vision checked. Dr…
Social Issues
Southern Oregon continues to recover from the fires of 2020 and grants are helping residents in the region. The Almeda Fire in Jackson County …
Environment
New funds will help plug abandoned oil and gas wells in the Keystone State, and should boost the region's economy in the process. It is a big job…