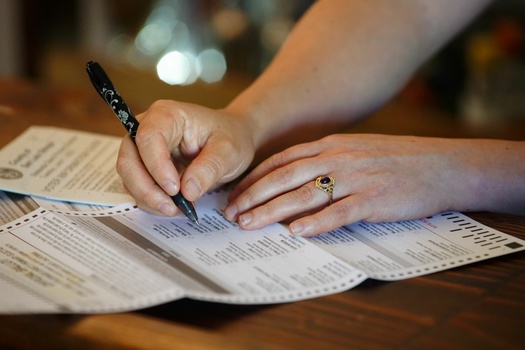 Tuesday, September 27, 2022
A Nevada democracy watchdog group said social media, blogs, websites and hyperpartisan news organizations are all working overtime to spread disinformation in an effort to influence the midterm elections in November.

One debunked claim said voting machine algorithms are changing votes, which has driven two Nevada counties to move to hand-count their ballots, a much less secure process, and more vulnerable to manipulation.

Lisa Lynn Chapman, Nevada disinformation state manager at the Institute for a Progressive Nevada, said the problem with intentional falsehoods goes beyond the usual exaggerations sometimes heard on the campaign trail. She argued people need to be skeptical and try to pinpoint the source.

"Well, in general, trolls, white nationalists, men's rights activists, the 'alt-right' conspiracy theorists," Chapman outlined. "All manipulate social media algorithms to amplify their messages."

She cited one recent false narrative, which claimed undocumented immigrants are being registered to vote at the Nevada Department of Motor Vehicles. Chapman added another falsehood going around blames undocumented immigrants for the fentanyl crisis in Nevada.

"In a recent report from the Cato Institute, U.S. citizens were 86% of the convicted fentanyl drug traffickers. This is 10 times the greater convictions of undocumented immigrants, for that same offense."

She warned people that lies about who is eligible to vote, as well as when, where and how to cast a ballot, are expected to surge in the coming weeks. Voters can check the Nevada Secretary of State's website for the correct information.

Support for this reporting was provided by The Carnegie Corporation of New York.


get more stories like this via email

Health and Wellness
Most people probably never give a second thought to their visits to the dentist, but not everyone can navigate this process with ease. People with …
Social Issues
Christmas is a little more than two weeks away, and toy drives around the country are in full swing. A North Dakota organizer shares some things to …
Social Issues
A federal judge in Nevada has dealt three tribal nations a legal setback in their efforts to stop what could be the construction of the country's larg…

Environment
Hoosiers could get their holiday trees from any of about 200 tree farms in the state, according to the Indiana Christmas Tree Growers Association…
Social Issues
Reports from the Insurance Commissioner's office and the state Attorney General reveal an analysis of what they call "the true costs of health care" i…
Health and Wellness
The holiday season is filled with recipes passed down from years before, and feasting with family and friends. But think again before you have …
Environment
Connecticut lawmakers are reluctant to approve new emission standards that would require 90% cleaner emissions from internal-combustion engines and re…
Environment
While lawmakers and environmental groups strive to lower vehicle emissions and the nation's carbon footprint, many truckers see unrealistic …