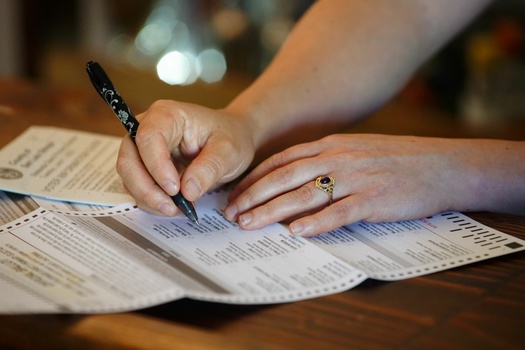 Wednesday, December 7, 2022
Democrats have struggled to turn "red" rural areas "blue" across the country for years, but some left-leaning candidates won in 2022, raising the question of how they succeeded where many others have failed.

In Washington, Democrat Marie Gluesenkamp Perez flipped a red U.S. House seat in the southern part of the state.

Amber Rosewood, chair of the 19th Legislative District Democrats in Cowlitz County, said her organization partly coordinated with Glusenkamp Perez's campaign, but noted her group has been organizing year-round since 2018.

She emphasized it was important Glusenkamp Perez's campaign did not attempt to take over her group's efforts.

"You really just need to find the people that are already organizing, that are natural leaders, that have a group of people around them willing to do good work," Rosewood explained. "And figure out how you can incorporate those efforts into your campaigns."

The race for Washington state's 3rd Congressional District was one of the most hotly contested House races of the 2022 election. It had been represented by a Republican since 2010.

The Rural Urban Bridge Initiative has released a report about what the keys to success for Democrats are in such areas.

Anthony Flaccavento, co-founder of the group, said one finding is winning candidates were widely seen as engaged with the local community, whether they were fourth-generation residents or relative newcomers.

"They had strong what we call in the report 'local fluency.' They knew the community, they knew the history, they knew the language and the morays and the vernacular, and all of that," Flaccavento noted. "They knew what mattered to the majority of people, and they, in one way or another, had been engaged with trying to make the community strong."

Rosewood added it is likely to be the case for any successful candidate in rural America.

"We're all here in these rural communities. We care very much about where we live and the resources we have are really important to us," Rosewood outlined. "And when a candidate can show that our issues are their issues we want to work with them. We want to work hard for them, we want them to represent us."


get more stories like this via email

Health and Wellness
Most people probably never give a second thought to their visits to the dentist, but not everyone can navigate this process with ease. People with …
Social Issues
Christmas is a little more than two weeks away, and toy drives around the country are in full swing. A North Dakota organizer shares some things to …
Social Issues
A federal judge in Nevada has dealt three tribal nations a legal setback in their efforts to stop what could be the construction of the country's larg…

Environment
Hoosiers could get their holiday trees from any of about 200 tree farms in the state, according to the Indiana Christmas Tree Growers Association…
Social Issues
Reports from the Insurance Commissioner's office and the state Attorney General reveal an analysis of what they call "the true costs of health care" i…
Health and Wellness
The holiday season is filled with recipes passed down from years before, and feasting with family and friends. But think again before you have …
Environment
Connecticut lawmakers are reluctant to approve new emission standards that would require 90% cleaner emissions from internal-combustion engines and re…
Environment
While lawmakers and environmental groups strive to lower vehicle emissions and the nation's carbon footprint, many truckers see unrealistic …