The U.S. Department of Agriculture has awarded Iowa State University a $1.8 million grant to raise high-dollar crops in the shadow of huge solar array panels that are becoming more common across the state.

Ag researchers and energy experts are studying ways for people to benefit from investments in renewable energy beyond just clean electricity.

It's called agrivoltaics, and it couples solar farms with agricultural practices in, around and underneath huge solar panels, where the resulting shade won't allow traditional agricultural crops to grow well.

Matt O'Neill - professor in plant biology, entomology and microbiology at Iowa State - said researchers are trying what are known as horticultural crops in the shadow of the solar arrays, crops he said could grow better and also tend to be more valuable.

"It's a mix of things," said O'Neill. "It can be things like broccoli, tomatoes, squashes - but also perennial crops like strawberries and blackberries and raspberries. "

O'Neill said Iowa's corn and soybeans, known as commodity crops, need a lot of land to be grown profitably - which is why he says 70% of Iowa's landscape is planted with them.

He said the growing number of solar farms will create more available land for horticultural crops, potentially creating another avenue for people who want to get into farming on a smaller scale than commodity crops such as corn and soybeans require.

O'Neill said there is some evidence that growing horticultural crops beneath the panels creates a cooler micro-climate, allowing the solar arrays to operate more efficiently when they are producing electricity.

Anne Kimber directs the Electric Power Research Center at Iowa State. She said given all of the benefits, she wants people to understand that using farmland in multiple ways - as agrivoltaics does - will be economically and environmentally beneficial for everyone.

"But that means that we're using land in a different way for those kinds of home-grown power systems," said Kimber. "And if we can demonstrate multiple values from these projects, then it does have greater value for the state of Iowa. It has greater value to the people who see these developments happening around them."

Construction on the 1.35-megawatt solar-farm agrivoltaics test site will begin next month on 10 acres south of Ames. Research is scheduled to begin next spring.




get more stories like this via email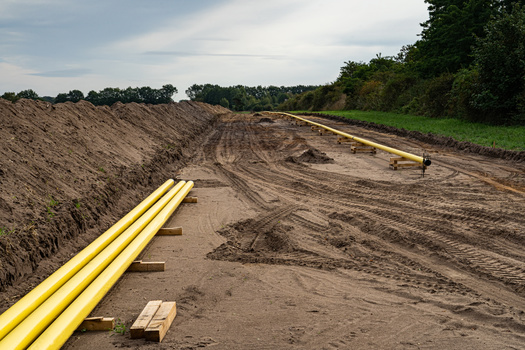 Environment
The Federal Energy Regulatory Commission approved a plan extending a natural-gas pipeline in Virginia. The Virginia Reliability Plan and Transcot's …
Social Issues
Today is Giving Tuesday, a day when millions of Americans are expected to make charitable donations. But it can also be a field day for scammers…
Health and Wellness
Starting Friday, North Carolinians will have greater access to health care as the long-awaited Medicaid expansion is launched. Medicaid will …
Social Issues
A new project in Southern Arizona aims to support local reporting and enable greater access to local news and information. Earlier this month…
Social Issues
As the weather turns colder, two groups of people in one North Dakota city that are generations apart appear to be in good shape to navigate housing …
Researchers are out with new findings they say show that death rates linked to air pollution from coal plants are underestimated. A Wisconsin …
Social Issues
Illinois high school seniors have new hurdles to overcome to get to college. High school students are waiting several extra weeks to get their hands …
Environment
Clean-energy companies and supporters are calling on federal officials to prioritize the development of charging infrastructure for EV powered medium …