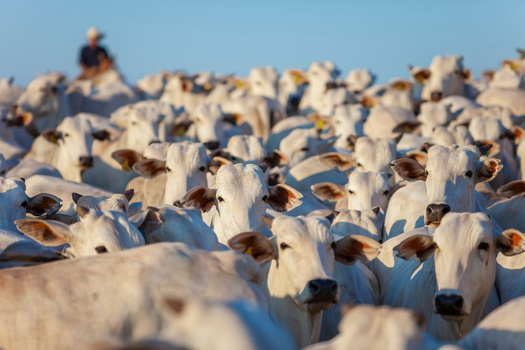 Advocates are petitioning the U.S. Fish and Wildlife Service to save the smallest rabbit species in North America, the pygmy rabbit. Its habitat, the so-called Sagebrush Sea of the Intermountain West, stretches from Oregon to Wyoming. At less than a pound, the rabbit takes shelter in the sagebrush to hide from predators and look for food.

Miranda Crowell, a University of Nevada, Reno researcher and PhD candidate who studies pygmy rabbits in southeastern Oregon and Nevada, said the Sagebrush Sea is under threat.

"Sagebrush habitat historically has been converted to agriculture and has been heavily grazed, and so the habitat is just continuing to be degraded and fragmented over time and their suitable habitat is shrinking," Crowell said.

Groups across the West filed a petition on Monday to list the pygmy rabbit under the Endangered Species Act.

Vera Smith, senior federal lands policy analyst with the group Defenders of Wildlife, said because the pygmy rabbit relies on sagebrush, threats to the habitat are threats to the species. Wildfires present one of the biggest threats and are a growing problem.

"Fire's a natural part of our western habitats and ecosystems," she said, "but with climate change fires are becoming bigger and more frequent. In the past 40 years, we've seen about 26 million acres in the pygmy habitat range burn. That's about 15%."

Smith added invasive species like cheatgrass also increase the risk from wildfires, and a contagious and deadly virus is threatening pygmy rabbits as well, she said.

She said the rabbits' burrows create shelter for other species and also provide food and improve the habitat in other ways.

"What they leave behind can contribute to nutrient recycling in the soil. So they're just really an important species for the maintenance and function of sagebrush ecosystems," she said.


Disclosure: Defenders of Wildlife contributes to our fund for reporting on Climate Change/Air Quality, Endangered Species & Wildlife, Energy Policy, Public Lands/Wilderness. If you would like to help support news in the public interest,
click here.
get more stories like this via email

Environment
This Saturday, June 3, thousands of Californians will be among hundreds of thousands of Americans heading into the great outdoors to celebrate …
Social Issues
A coalition of Wisconsin groups is asking Gov. Tony Evers to reject bills it contends would make it harder for people struggling to get by to bounce …
Social Issues
Two months from today, Minnesota will begin the process of removing low-level marijuana convictions for those who have them on their criminal records…
Social Issues
Groups working to fight poverty in Alabama are urging state senators to approve a bill aimed at lowering food costs for families. House Bill 479 …
Social Issues
Navigating college can seem overwhelming for first generation students, but an early outreach program at Arizona State University aims to change it…
Health and Wellness
A new Nebraska law is now the subject of a lawsuit filed in the District Court of Lancaster County. In its amended form, Legislative Bill 574 …
Social Issues
A proposal from the federal government could provide a better path toward student loan debt repayment, but a new survey finds many borrowers don't …
Environment
Maine lawmakers are considering two pieces of legislation which supporters said are needed to ensure "responsible" development of offshore wind projec…