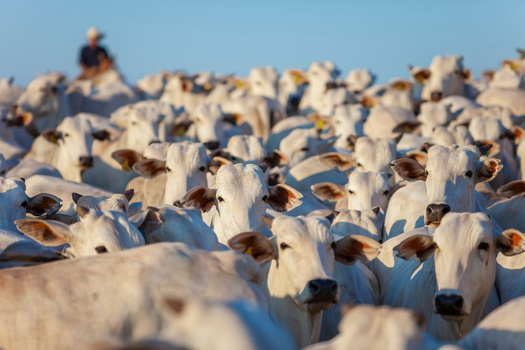 On Monday, conservation groups submitted a petition calling on the U.S. Fish and Wildlife Service to protect the pygmy rabbit under the Endangered Species Act.

The rabbits, which weigh from half a pound to just over a pound, depend on the Sagebrush Sea to survive. This grassland ecosystem once covered 500,000 square miles across 11 states, including Wyoming.

Randi Spivak, public lands program director with the Center for Biological Diversity, said that number is down to 14%.

"We're watching the slow-motion extinction of these tiny, mighty pigmy rabbits right before our eyes," Spivak said. "It's the biodiversity crisis playing out in real time. The alarm bell for pygmy rabbits has been ringing for a long time, but now their loss of their habitat is accelerating."

The petition claims pygmy rabbits are at risk of extinction mainly because of large-scale habitat loss to human development, oil and gas extraction as well as invasive species, wildfire and disease. A recent U.S. Geological Survey report found that 1.3-million acres of the Sagebrush Sea are lost each year.

If Fish and Wildlife agree with conservationist concerns, they could begin to develop a coordinated recovery strategy.
Defenders of Wildlife is also listed in the petition. Vera Smith, a senior federal lands policy analyst with the group, said recovery will require protecting the last remaining high-quality habitat, and these core areas also need to be connected through corridors across the Sagebrush Sea.

"And then if something happens to one particular population - let's say a fire comes through, or disease comes through - and takes it out, it has a chance to recover," Smith said. "Because there is enough habitat protected, and enough that is connected."

Rabbit populations in Wyoming have dropped by nearly 70%, according to state surveys that have tracked dwindling pygmy rabbit populations over the past five decades. Spivak said when an animal or plant species goes extinct, it is a symptom of a potentially much larger problem - the unravelling of entire ecosystems.

"It matters because our own survival depends on healthy, functioning ecosystems," Spivak said. "They provide clean water, air, food, medicine. Every species is part of a complex web of life that is all connected."


Disclosure: Defenders of Wildlife contributes to our fund for reporting on Climate Change/Air Quality, Endangered Species & Wildlife, Energy Policy, Public Lands/Wilderness. If you would like to help support news in the public interest,
click here.
get more stories like this via email

Environment
This Saturday, June 3, thousands of Californians will be among hundreds of thousands of Americans heading into the great outdoors to celebrate …
Social Issues
A coalition of Wisconsin groups is asking Gov. Tony Evers to reject bills it contends would make it harder for people struggling to get by to bounce …
Social Issues
Two months from today, Minnesota will begin the process of removing low-level marijuana convictions for those who have them on their criminal records…
Social Issues
Groups working to fight poverty in Alabama are urging state senators to approve a bill aimed at lowering food costs for families. House Bill 479 …
Social Issues
Navigating college can seem overwhelming for first generation students, but an early outreach program at Arizona State University aims to change it…
Health and Wellness
A new Nebraska law is now the subject of a lawsuit filed in the District Court of Lancaster County. In its amended form, Legislative Bill 574 …
Social Issues
A proposal from the federal government could provide a better path toward student loan debt repayment, but a new survey finds many borrowers don't …
Environment
Maine lawmakers are considering two pieces of legislation which supporters said are needed to ensure "responsible" development of offshore wind projec…